Artist Statement page 3
Custom Engravings. These images allowed bankers and engravers to tell a story that glorified, justified and ratified an inhumane institution. While scenes of agricultural labor dominated with cotton the king, slaves are shown involved in all aspects of the South's lower economic structure. Engravings of slaves were everywhere: clearing farmlands, planting cotton, hoeing the fields, picking cotton, baling cotton, carrying the cotton, bringing cotton bales to the market, to the steamboat and to the train. Since states could charter banks, there were bank notes showing slaves cooking for their white masters in South Carolina, picking sugar cane in Tennessee and Alabama, harvesting turpentine in Georgia, carrying tobacco in Texas, feeding a horse in Virginia, and harvesting corn in Missouri.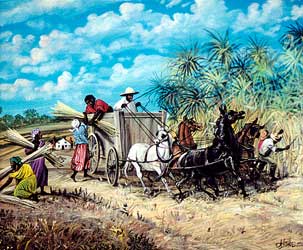 "Slaves Loading Sugarcane"

The engravings also includes industrial slavery, though the concept was threatening and is only on one known currency where slaves are shown working in a factory in North Carolina.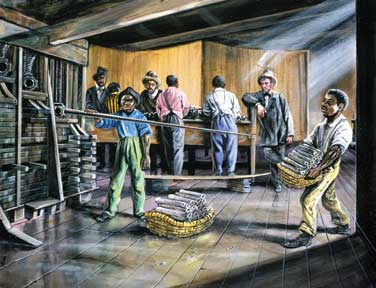 "Slave Factory Workers"